Hello and welcome to Word of the Week.
If you're new here, Word of the Week is a nice and simple weekly linky, with everyone welcome to pop by and share. You reflect back on the past week and sum it up in one word. Then share your word with us in a blog post, with as little or as much explanation as you like. It's a fun and friendly linky, so please do be lovely and visit as many of the other blogs as you can and share with them your thoughts on their words and weeks. I do comment on every entry to the linky, and if you add the Word of the Week badge to your post to help spread the 'word', I also tweet them out.
My word of the week this week is:
As with last week, we've had plenty of fun and 'play' could well apply again, but on top of that, there's also been the added excitement of giving Boo's bedroom a makeover.
This has been fun to plan, and she enjoyed helping to choose the paint and new carpet. The Husband pulled the old carpet up at the weekend and decorated in there, so Boo was sleeping in Little Man's bedroom with him for a few days, with all of her clothes and belongings over our bedroom floor – upstairs was chaos!
Boo was keen to have a desk and some bookshelves, so knowing what she wanted, we handed the kids over to my mum overnight on Wednesday (queue much excitement from them as this was the first time they'd both stayed there). This meant that we could get the carpet fitted, make an evening trip to Ikea and build furniture without two small ones running about like crazy. It was so much easier doing it this way and it also meant that for the first time in ages, the Husband and I got a lie-in Thursday morning – hooray!
Boo absolutely loves it! It was lovely seeing the happiness on her face when she first saw it, and she immediately wrote a Post-it note for her door declaring it 'the best bedroom in the world' – how sweet! She cannot stop thanking us, bless her. It's a more grown up room for her, and with moving things about, it looks a lot bigger, too. She wants to just stay in there all day now! I'm so pleased she likes it.
What about you? What one word sums up your week best? Please grab the badge, link up and share.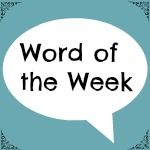 Linky opens at 6.30am Friday, to midnight on Sunday.