Hello and welcome to Word of the Week!
If you're new here, Word of the Week is a nice and simple weekly linky, with everyone welcome to pop by and share. You reflect back on the past week and sum it up in one word. Then share your word with us in a blog post, with as little or as much explanation as you like. It's a fun and friendly linky, so please do be lovely and visit as many of the other blogs as you can and share with them your thoughts on their words and weeks. I do comment on every entry to the linky, and if you add the Word of the Week badge to your post to help spread the 'word', I also tweet them out.
My word of the week this week is:
First and foremost, thanks for the well wishes last week, and yes, we are all better now.
The big thing in our lives at the moment is Little Man settling in to nursery. He has been very resistant to going, getting upset about the thought of it when he's at home and then getting near hysterical on the mornings that he does have to go. It's been hard to adjust to, but this week it seems to be getting a little better. Though he still cries, the screaming has lessened, and on Tuesday when he came out he said he'd had fun. I'm not expecting it to be an easy drop today, I'm sure he will still be upset, but it seems to be going in the right direction, at least, and feels a bit better.
Of course with all of this happening with Little Man, Boo hasn't had much of the attention round here lately. She's such a happy and confident soul, with a really even temperament, that it can mean it's easy to be inattentive with her and she just goes on cheerily. But I have been feeling bad about it, so it was lovely this week to attend a recital at her school as a result of her speech and drama lessons. She performed beautifully and looked very happy doing so, leaving me feeling proud and a bit better to be doing something totally focused on her.
I'm feeling better about my OU course this week, having got a bit stuck on my last assignment. It was one of those things where it had dragged on for a bit too long so I then kept putting it off and I was struggling to concentrate fully on it on Little Man's nursery days as I was worrying about him. Well, I submitted it last Friday so what will be will be with the marks on that one now, and it's meant I've been able to crack on with the next block and I'm back into the swing of it all. I've also been enjoying the Dan Jones series on channel 5, Britain's Bloody Crown, which is helping to cement my learning.
So all in all, it's been a better week. Even the weather's been better, with bright sunny days rather than dreary rainy ones. The cold I can do, I just hate the rain!
What about you? What one word sums up your week best?
Please grab the badge, link up and share.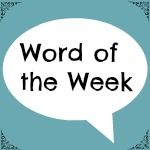 Linky opens at 6.30am Friday, to midnight on Sunday.