Hello and welcome to Word of the Week. Thanks to those of you that linked up last week, I look forward to reading all about your weeks this week. It was lovely to have quite a few new faces last week, too, mixing it up with the fabulous regular #WotWers – welcome and thanks to all of you.
If you're new here, Word of the Week is a nice and simple weekly linky, with everyone welcome to pop by and share. You reflect back on the past week and sum it up in one word. Then share your word with us in a blog post, with as little or as much explanation as you like. It's a fun and friendly linky, so please do be lovely and visit as many of the other blogs as you can and share with them your thoughts on their words and weeks. I do comment on every entry to the linky, and if you add the Word of the Week badge to your post to help spread the 'word', I also tweet them out.
My word of the week this week is:
It just had to be.
Most weeks 'blog' is a huge part of my days and week, of course it is, it's what I do. But this week, it feels all the more prominent.
At the weekend I fancied a change, so I decided to give my blog a bit of a makeover. I love my header and graphics, so that's all still here, I just wanted a new theme and layout. It would be fair to say that this absorbed me for quite a few hours! I can't tell you the number of themes that I tried out for size before settling on this one, and then even within this one there are so many choices it took me an age to settle on this look. But I'm there now and I like it. There are still a couple of little tweaks that I'd like to make to it, but I have very little technical know-how, so the fabulous Sian over at Potty Mouthed Mummy is going to help me sort them out next week, thanks, Sian! What do you think of it?
I've announced two new blog ambassadorships this week, one with Reading Eggs and the other with HUGGIES Pull-Ups.  I'm really pleased and proud to be working with both brands, both very relevant to our lives and hopefully my readers, too. So amongst other things, I'll be talking literacy and reading, and potty training and wee, soon!
I also shared a post entitled What Pro-Blogging Means to Me and I was a little overwhelmed by the response, to be honest. It resonated with some, inspired some and with those who didn't fall into either category, they were simply lovely with their comments and support. Thank you, fabulous blogging community. I do love what I do here, so it's nice to think and believe that some people enjoy reading it, too.
And then the most astonishing thing happened. The icing on an already good bloggy week, a bolt out of the blue and a shock that I'm still grappling with. Tots100 updated their rankings and I did a little better than I'd expected. In fact, it was the lovely Beth at Twinderelmo who tweeted me saying  'well done on your ranking' that prompted me to go check it as I was unaware that they'd updated that day. So off I popped for a little look. My, oh my, what a surprise! I made it into the top 100 after 6 months of blogging, and so I have now been in there for about 15 months. For the past 6-7 months I've hovered around the 20-30 mark, which I was very pleased with, as you'd imagine. But somehow, in some way, this month has been a good one. I doubt I'll stay there, and I'm really not sure that I should do (I did immediately tweet Tots100 to check that they'd got the scoring right, as really, it's a bit odd!), but I'll enjoy this moment while it lasts, and I'll always know that once upon a time, I reached the heady heights of the top 5. It's better than I even imagined, and with my 2 year blog birthday coming up in a few weeks time, it's time to take stock and just enjoy the moment.
So it's a thank you from me. Thanks for reading, thanks for supporting, thanks for talking to me on social media, thanks for being nice to me at blogger meet-ups, thanks for sharing what I write, commenting and of course, for linking up here. Where would I be without you guys? Thank you.
What about you? What one word sums up your week best? Please grab the badge, link up and share.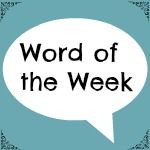 Linky opens at 6.30am Friday, to midnight on Sunday.