Hello and welcome to Word of the Week.
If you're new here, Word of the Week is a nice and simple weekly linky, with everyone welcome to pop by and share. You reflect back on the past week and sum it up in one word. Then share your word with us in a blog post, with as little or as much explanation as you like. It's a fun and friendly linky, so please do be lovely and visit as many of the other blogs as you can and share with them your thoughts on their words and weeks. I do comment on every entry to the linky, and if you add the Word of the Week badge to your post to help spread the 'word', I also tweet them out.
My word of the week this week is:
As you may know, I'm currently studying History with the Open University. This week I've completed my first assignment and embarked upon the next block, immersing myself in The Reformation. I'm really enjoying it, and it's a period in history that I'm very interested in. So I've been reading it, writing it, and thinking about it! I am also preparing for my next tutorial which takes place tomorrow, which I'm hoping will both consolidate my learning so far and offer fresh perspectives on it. But that's not all..
This week Boo's school reading book was 'Castles and Palaces', so as well as chatting it through (probably in a bit more detail than my daughter really required, but I was warming to the subject!), we decided to build on her learning by taking a trip to a castle at the weekend. I shared all about that here yesterday, as we visited Tamworth Castle. I do love walking round old buildings, reading and seeing yes, but also just taking in the feel of the place and trying to imagine all that those walls have witnessed over the centuries.
And finally, my latest addiction. Now, before I mention this, I'd like to state that I do absolutely understand that this is not 'history', it is pure fantasy and fiction – I do get that! Game of Thrones has hit the Reading household. Whilst it is all fantasy, it has the feel of medieval times, with the knights, costumes, buildings and customs, so that I feel transported back in time watching it. The Husband has warned me not to get confused and talk about the Lannisters in my history assignments! I posted about it earlier this week, and with the weather getting colder, every mention of 'winter is coming' takes me right back there!
What about you? What one word sums up your week best? Please grab the badge, link up and share.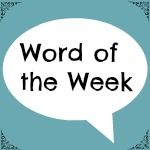 Linky opens at 6.30am Friday, to midnight on Sunday.