I am loving this feature. As well as thinking up my own word, I look forward to finding out what everyone else has come up with and how their week's have panned out for them. I hope you're enjoying it, too. Anyone can join in, all you have to do is blog your word, grab the badge and link up.
So my week can be best summed up with the word…
Nice word, I think.
We've spent some time redoing the children's playroom. This clearly put my focus firmly on play, and as we've moved things around, different toys have been played with. The kids have also become obsessed with the new game that I introduced yesterday on the blog – Happyland Hunting. Simple, but it's keeping us playing all day long! I've started up my new photography hobby, thanks to my first guest blog here, that has had me playing with my camera and trying out different things. So yes, 'playing' has been our week here 🙂
How about you? Grab the badge, link up your post and do take time to visit the other blogs, too..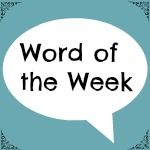 Linky opens Fridays at 6.30am and closes at midnight on Sundays