Hello and welcome to Word of the Week. Thanks to those of you that linked up last week, and I look forward to reading all about your weeks this week.
If you're new here, Word of the Week is a nice and simple weekly linky, with everyone welcome to pop by and share. You reflect back on the past week and sum it up in one word. Then share your word with us in a blog post, with as little or as much explanation as you like. It's a fun and friendly linky, so please do be lovely and visit as many of the other blogs as you can and share with them your thoughts on their words and weeks. I do comment on every entry to the linky, and if you add the Word of the Week badge to your post to help spread the 'word', I also tweet them out.
My word of the week this week is:
So if you popped by last week you'll know that my daughter was unwell, but appeared to be on the up, or so I thought.
Saturday she went back down hill, barely eating, very quiet and still running a high temperature. Sunday we took her to the doctors who sent us straight to hospital as her fever was so high and she had no other obvious symptoms. After a couple of hours there, we were advised it was a virus that would run it's course, and to keep her temperature down as much as possible. It finally returned to normal on Tuesday, she started eating properly again on Wednesday and today as I write this (Thursday) she's back at school and back to normal, at last. So it's been a week dominated by me brandishing a thermometer at my poor girl all hours of the day, for what felt like days on end, checking whether, and wondering when, her fever would finally break. Little Man's been full of a cold, but fortunately has not had a high temperature – I can be certain of this because each time I checked Boo's, he wanted to be checked, too!
It's been a quiet one with lots of crafts, stories, movies and cuddles at home, and we were lucky that the weather has been nice enough to play out in the garden most days, too. Good to be back to normal again now, though.
What about you? What one word sums up your week best? Please grab the badge, link up and share.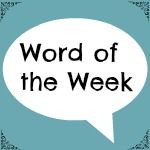 Linky opens at 6.30am Friday, to midnight on Sunday.