Hello and welcome to Word of the Week.
If you're new here, Word of the Week is a nice and simple weekly linky, with everyone welcome to pop by and share. You reflect back on the past week and sum it up in one word. Then share your word with us in a blog post, with as little or as much explanation as you like. It's a fun and friendly linky, so please do be lovely and visit as many of the other blogs as you can and share with them your thoughts on their words and weeks. I do comment on every entry to the linky, and if you add the Word of the Week badge to your post to help spread the 'word', I also tweet them out.
My word of the week this week is:
OK, I know it's two words, but they kind of go hand in hand!
Little Man has 'discovered' Star Wars. It has become an obsession. All that he wants to talk about, watch and play revolves around Star Wars. With his birthday in just a few weeks, he now apparently needs a Yoda, a Stormtrooper, a Chewbacca and a lightsaber. And yes, I have already bought his presents, all before the Star Wars craze hit. Sigh.
Now as luck would have it, I am pretty au fait with Star Wars. I can answer questions about the different characters, planets and systems and plot lines. I struggle a bit around the gadgetry and machines, I know my AT-ATs and X-Wings, but lose interest beyond that. It's the concept that I find tricky to explain. The Force and the Dark Side aren't that easy for a two year old to understand. But then I realise that I'm wasting my breath anyway, as Little Man just wants to laugh at Yoda, sing the Imperial March and attack me with a lightsaber. OK, that I can handle.
Of course, the Husband is delighted. He is totally backing the new birthday list and looks forward to wielding a lightsaber himself. In his boy, he sees himself, and I can see how happy that makes him. I suspect Star Wars is about to reign here for many years to come….
I also just want to say a big thanks for last week, too. I really appreciated your condolences and best wishes, and our weekend away was just what we needed. Thank you.
What about you? What one word sums up your week best? Please grab the badge, link up and share.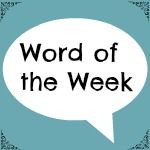 Linky opens at 6.30am Friday, to midnight on Sunday.