Hello and welcome to Word of the Week.
If you're new here, Word of the Week is a nice and simple weekly linky, with everyone welcome to pop by and share. You reflect back on the past week and sum it up in one word. Then share your word with us in a blog post, with as little or as much explanation as you like. It's a fun and friendly linky, so please do be lovely and visit as many of the other blogs as you can and share with them your thoughts on their words and weeks. I do comment on every entry to the linky, and if you add the Word of the Week badge to your post to help spread the 'word', I also tweet them out.
My word of the week this week is:
I know, I know, too thrilling a word, right?
We've needed a new shed for a year or so, really, having patched ours up as best we could this time last year to see us through a few more months. With the colder, wetter weather fast approaching, we knew it was time to get one, so a couple of weeks ago I had the exciting task of choosing and ordering a new shed and arranging for a skip to arrive to time nicely with it. The shed dutifully arrived last Friday (at 6.40am!!) and the skip turned up later that day, much to the kids' excitement.
Saturday was 'shed day' so my dad and brother came round to help the Husband destroy the old one and erect the new one. We also emptied the old shed, threw a lot of it in the skip, got rid of a few of the kids old things including their trampoline which was taking up loads of room yet barely used these days, and the pagoda which had fallen down in the winds over the summer. The shed construction actually ran pretty smoothly considering the three of them had to ponder the instructions together and offer up their own thoughts on it!
We have positioned it on the other side of the garden, as my sister-in-law quite rightly spotted that the sunshine never reaches there, yet it does where the old shed was situated. Until this point, the back of the garden has really just been a pathway to the shed, which had annoyed me as it's quite a large area that's always felt wasted. Well no more!
At last, it is tidy! The falling down rush and old timber were just waiting for that skip all summer and irritating me no end! The shed looks superb thanks to the men in my life, and it's roomy inside now that we've dumped lots of old things.
It's really opened up the top of the garden now, and so since Saturday, I've been pondering what to do with the space. You'll see we put some old railway sleepers around the patio area to create a couple of raised beds, so I've already planted some tulips in there and popped out to get a few climbers. The hole in the fence is troubling me, of course, but I think I'm just going to go with covering it with trellis as I want this corner to have climbers all round it over the fences. I'm thinking I probably need a new *rose, too, right?
*I *might* have a fair few roses…
What about you? What one word sums up your week best? Please grab the badge, link up and share.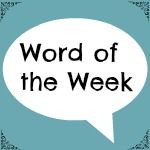 Linky opens at 6.30am Friday, to midnight on Sunday.