Hello and welcome to Word of the Week. One of my favourite parts of my week is reading everyone's words, so thanks so much for taking the time to stop by and link up.
If you're new here, Word of the Week is a nice and simple weekly linky, with everyone welcome to pop by and share. You reflect back on the past week and sum it up in one word. Then share your word with us in a blog post, with as little or as much explanation as you like. It's a fun and friendly linky, so please do be lovely and visit as many of the other blogs as you can and share with them your thoughts on their words and weeks. I do comment on every entry to the linky, and if you add the Word of the Week badge to your post to help spread the 'word', I also tweet them out.
My word of the week this week is:
If you read my post last week, you'll know that I spent much of last week worrying about Harry, our dog, and suspecting that I may no longer have him this week.
Well, he is home and safe, so much of this week has been about caring for him and helping him to recover from his surgery.
He has had his spleen, along with a big tumour removed, so it's been major surgery. Our parents have been great helping out so that he needn't be left alone for the first few days, and we've cancelled plans and stayed home with him for most of the week, as I didn't like to leave him for too long. Last Friday saw me spending much of my day, in between entertaining and looking after Little Man, lying on the floor stroking him, trying to tempt him to eat by hand-feeding him, and obsessing about how to try and get his tablets into him. Oh, and clearing up blood. That's been a continuing theme all week. We were advised that there would be 'seepage' and that has most definitely been the case – my carpet may not recover!
He started to perk up a bit over the weekend, and at last started eating. This was bothering me, as before his operation he'd stopped eating and I suspected something wrong with his mouth rather than a loss of appetite. Along with removing his tumour, the vet looked in his mouth and found and removed a cracked tooth, so we were hoping that would be problem fixed, but until he ate I was still worried that it could be something else. But phew, he can eat again and is trying to make up for lost time. Unfortunately, though, we can't feed him too much too soon, as it could compromise the surgery if his stomach expands too quickly. He's been getting brighter every day since then.
Then on Tuesday we got the call that we really didn't want. Tuesday was a bad day. Harry has stage 5 lymphoma. Chemotherapy may lengthen his life by a few months, though it may not as the cancer is so advanced. We've decided not to put him through that, at 10 years old, and especially as he hates going to the vets. The vet can't say how long he has, it might be a few weeks, it might be a few months, it depends on where the cancer chooses to go and attack next. At the moment, he's looking better than he has done in months, so we know that for now he is comfortable.
So we will spoil him, we will hug him, we will treat him and we will enjoy him. I'm trying to prepare as best I can for losing him, and I know I also need to think about how the kids will react and be ready to console them, too. Each day I will be looking for signs that he has had enough and that it is time to call the vet. I just want a bit more time. I'm not ready to say goodbye yet.
What about you? What one word sums up your week best? Please grab the badge, link up and share.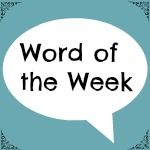 Linky opens at 6.30am Friday, to midnight on Sunday.