Hello and welcome to Word of the Week.
If you're new here, Word of the Week is a nice and simple weekly linky, with everyone welcome to pop by and share. You reflect back on the past week and sum it up in one word. Then share your word with us in a blog post, with as little or as much explanation as you like. It's a fun and friendly linky, so please do be lovely and visit as many of the other blogs as you can and share with them your thoughts on their words and weeks. I do comment on every entry to the linky, and if you add the Word of the Week badge to your post to help spread the 'word', I also tweet them out.
My word of the week this week is:
I have had so many parcels this week! I think I've had one or more every single day, as I've a few reviews and posts coming up here which have involved deliveries and I've also got the bulk of my Christmas shopping done this week, so it's all been arriving.
I have more cardboard and bubble wrap than even the kids can use and I'm spending too much time trying to squirrel various packages away as I am now running out of room to hide things – why are kids toys so big?!
I've also spent time chasing up parcels that I've been expecting, time that I really could have done with, but hey ho. I think pretty much everything that I was waiting on is here now. Oh, but today's Black Friday so I've a few more things I'm hoping to get which will of course mean….more parcels!
What about you? What one word sums up your week best?
Please grab the badge, link up and share.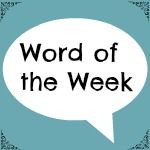 Linky opens at 6.30am Friday, to midnight on Sunday.