Hello and welcome to Word of the Week! Thanks to those of you that linked you last week, and being so patient with my blog playing up, it was lovely reading all of your posts. It's a pleasure to have you all here.
If you're new here, Word of the Week is a nice and simple weekly linky, with everyone welcome to pop by and share. You reflect back on the past week and sum it up in one word. Then share your word with us in a blog post, with as little or as much explanation as you like. It's a fun and friendly linky, so please do be lovely and visit as many of the other blogs as you can and share with them your thoughts on their words and weeks. I do comment on every entry to the linky, and if you add the Word of the Week badge to your post to help spread the 'word', I also tweet them out.
My word of the week this week is:
Oh yes, it's been all about this, this week, and it's not something I'm especially good with!
As many of you will probably know from trying to link up last week, I had problems with my hosting last Friday into Saturday. It resulted in me upgrading the package, after too many queries and 'live chats' for my liking (I wanted to just spend time with Boo as she was at home), but I am hoping it will now make a difference. Time will tell, I guess.
That also happened to be the day that my phone upgrade was due, a day that I've been counting down to, as I explained in my post Bye, Bye, iPhone. So I've spent time researching new phones, finally choosing the Sony Xperia Z3, then looking for the best deal, then getting the best deal sorted and then finally getting the phone! In between the upgrade and phone's arrival, they switched my 3G off, so I was without technology for the weekend. This bothered me initially, and then I found it rather freeing. I did miss Instagram, though! Since my phone's arrival, I've been getting to grips with the change from iOS to Android, downloading new apps and transferring data. Oh, the excitement!
So technology has taken up a lot more of my thoughts and time this week than I'd normally give to it. Glad it's not like this every week!
What about you? What one word sums up your week best? Please grab the badge, link up and share.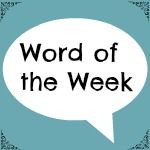 Linky opens at 6.30am Friday, to midnight on Sunday.