Hello and welcome to Word of the Week. Thanks to those of you that linked you last week, I do enjoy reading about your weeks', whether they be good or bad, so keep 'em coming!
If you're new here, Word of the Week is a nice and simple weekly linky, with everyone welcome to pop by and share. You reflect back on the past week and sum it up in one word. Then share your word with us in a blog post, with as little or as much explanation as you like. It's a fun and friendly linky, so please do be lovely and visit as many of the other blogs as you can and share with them your thoughts on their words and weeks. I do comment on every entry to the linky, and if you add the Word of the Week badge to your post to help spread the 'word', I also tweet them out.
My word of the week this week is:
There's been plenty of organising going on here this week.
I've had a good old clear-out up in the children's bedrooms. Little Man's growing so quickly, so I've sorted through his clothes and re-organised his wardrobe. We're planning to redecorate and get new furniture in Boo's bedroom soon, so I needed to clear a few things out of her room in readiness for that, too. I then got all of my boy's old clothes out of the loft and gave all of those away. It feels good to clear them, but I did feel a bit sad!
It seems to be that time of the year where I'm checking out insurance renewals, energy plans and credit cards again to ensure we're getting good deals, and that always takes a bit of organising, doesn't it? Happy to be getting the best offers now!
As it's the last week of term, Boo's had a school trip, an Easter bonnet parade and a school assembly complete with needing a Fairy Tale costume (she's gone as Little Red Riding Hood), so I've had more organising than usual for her this week. Glad it's the last day today! Though I've then been organising play dates and activities for the children for when we're back from our holiday, as there's so much we want to do and people to see, I'm trying to squeeze it all in!
With a holiday planned for next week, there's been the normal holiday plans and packing, along with sorting things for the blog and scheduling ahead. I hope by doing this, I may really get a few days off! Of course, Word of the Week will still be here next Friday, and I'll do my best to get round everyone as usual, thought it may take a little longer.
And finally, following on from last week's Thinking, I've reached a decision about my OU degree, and I have decided to go for it. So I've registered for the course I want to do, and am now hoping someone will conjure me up a few extra hours in the day come October! Thanks for your comments and advice on that one last week, I am now really looking forward to studying again.
What about you? What one word sums up your week best? Please grab the badge, link up and share.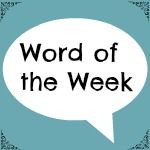 Linky opens at 6.30am Friday, to midnight on Sunday.