Hello and welcome to Word of the Week.
If you're new here, Word of the Week is a nice and simple weekly linky, with everyone welcome to pop by and share. You reflect back on the past week and sum it up in one word. Then share your word with us in a blog post, with as little or as much explanation as you like. It's a fun and friendly linky, so please do be lovely and visit as many of the other blogs as you can and share with them your thoughts on their words and weeks. I do comment on every entry to the linky, and if you add the Word of the Week badge to your post to help spread the 'word', I also tweet them out.
My word of the week this week is:
We've stayed home for most of this week. We've had several play dates here, along with most of our family popping round. Boo has been excitedly inviting everyone she can think of to come round to see her new bedroom, which has been lovely.
The guinea pigs have also had a new home this week. We decided that we'd like to bring them indoors, so after a fair bit of research and shopping around, we ordered their new cage. We bought them a few new bits of furniture to go in there, too, and I think that judging by all of their happy 'popcorning' that they absolutely love it. It's nice having them inside as the kids get to see much more of them now.
I've also had my OU study materials all arrive. I'm excited, though I'm still trying to find a 'home' for them that works efficiently for me. I want them neatly away somewhere (I cannot do clutter!) but nice and to hand whenever I have a little time to work. I will figure it out!
Next week we will have the Husband at home with us for most of the time, as we have the long weekend and Little Man's birthday to look forward to, so I'm also trying to get some of the more mundane housework and jobs around the home out of the way so that we can have a fun few days.
What about you? What one word sums up your week best? Please grab the badge, link up and share.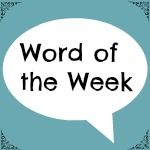 Linky opens at 6.30am Friday, to midnight on Sunday.