Hello and welcome to Word of the Week!
If you're new here, Word of the Week is a nice and simple weekly linky, with everyone welcome to pop by and share. You reflect back on the past week and sum it up in one word. Then share your word with us in a blog post, with as little or as much explanation as you like. It's a fun and friendly linky, so please do be lovely and visit as many of the other blogs as you can and share with them your thoughts on their words and weeks. I do comment on every entry to the linky, and if you add the Word of the Week badge to your post to help spread the 'word', I also tweet them out.
My word of the week this week is:
Yes, inside. As that is where I have been.
Boo took ill over the weekend, only returning to school yesterday, so other than the very briefest of errands run, I have been inside for most of the week.
Inside with Boo wasn't too bad. She was poorly, with a high temperature and barely eating, so was very lethargic. She was quiet, calm, content to read, colour, watch films and play on her Kindle. However, inside with a 3 year old bursting with energy as he had barely been anywhere for days and days was a little more challenging. Fortunately, he did go to nursery on Tuesday, which made for a very peaceful day for Boo and I as I got some studying done and she got through a mountain of jigsaw puzzles.
We have crafted, we have baked, we have come up with small world play, read a lot of books, watched some new films, made dens, built Lego, played with toys, you name it, we've done it!
My girl is now well and she went back to school yesterday. With the sun shining brightly I asked Little Man what he'd like to do with our day. 'Soft play' was his reply, so yes, I was inside again! Ah well, at least we got out for the school run…
What about you? What one word sums up your week best?
Please grab the badge, link up and share.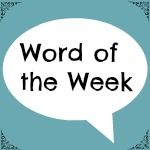 Linky opens at 6.30am Friday, to midnight on Sunday.