My new feature is here! Word of the Week starts today, where I will be summing up my week in one word, and inviting anyone else that fancies it to do the same, and link up here, too. Or, Instagram it with #WotW.
So my first word of 2014 is…
I do like to be 🙂 And this week has seen me find homes for the many new toys we now own, clear a new desk space, start on my new diaries and calendar, get blog plans up-and-running, dive back into my business after a Christmas break and start some new budgeting and saving regimes. So, yes, I think 'organised' sums this week up well!
What about you? What word captures this week for you? Leave a comment, or grab the badge, link up a post and please take a moment to go see what everyone else has to say for themselves this week…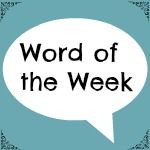 Linky open every week from Friday morning, until Sunday night.