Hello and welcome to Word of the Week.
If you're new here, Word of the Week is a nice and simple weekly linky, with everyone welcome to pop by and share. You reflect back on the past week and sum it up in one word. Then share your word with us in a blog post, with as little or as much explanation as you like. It's a fun and friendly linky, so please do be lovely and visit as many of the other blogs as you can and share with them your thoughts on their words and weeks. I do comment on every entry to the linky, and if you add the Word of the Week badge to your post to help spread the 'word', I also tweet them out.
My word of the week this week is:
Hooray! This is because we've been on holiday!
We've been away in Somerset for most of the week, not far from Minehead. We've explored the area, visited the seaside and built sandcastles, been to the beautiful Dunster Castle, ate out in plenty of restaurants, had fun at Diggerland, and generally just enjoyed being together for a few days. It's been lovely.
The last time we were away for a few days was last July, and I've really noticed the difference in the children, especially Little Man this time round, and how much more grown up he is, making everything that bit easier whilst we're away. No need for travel cots and high chairs, so we were travelling light, and less need for naps and the pushchair. The only problem we did have is that the kids haven't slept too well as it's been really windy and caravans aren't great in the wind! In fact, 'windy' could have been my WotW, too! Oh well, it just wouldn't be a family holiday without the Husband and I needing another holiday!
I'm sure to share more with you soon, and I hope you all have a lovely long weekend.
What about you? What one word sums up your week best? Please grab the badge, link up and share.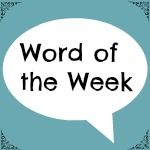 Linky opens at 6.30am Friday, to midnight on Sunday.