Hello and welcome to Word of the Week. One of my favourite parts of my week is reading everyone's words, so thanks so much for taking the time to stop by and link up. And thank you all so much for your lovely comments and well wishes about Harry last week, all much appreciated.
If you're new here, Word of the Week is a nice and simple weekly linky, with everyone welcome to pop by and share. You reflect back on the past week and sum it up in one word. Then share your word with us in a blog post, with as little or as much explanation as you like. It's a fun and friendly linky, so please do be lovely and visit as many of the other blogs as you can and share with them your thoughts on their words and weeks. I do comment on every entry to the linky, and if you add the Word of the Week badge to your post to help spread the 'word', I also tweet them out.
My word of the week this week is:
We've had Little Man's first two settling in sessions for nursery this week. He will start in September, going in for two school days a week.
It has dominated my week. It has been worrying me and making me question myself over and over. I am not sure he is ready to go. He will be three in September, but age is quite an arbitrary thing, and just because he's reached the age that many kids, including Boo, started nursery, doesn't necessarily mean that he should go, too.
At the first session, having been told over and over by him that he didn't want to go, he did stay true to his word and refused to go in. So I ended up scooping him up and carrying him in through the door with him loudly protesting, as cajoling him just didn't cut it. Not the start I'd wanted, with so many other parents looking on with their kids happily strolling in! He kept asking to leave for the first few minutes, so I kept distracting him with different activities and areas to explore. Eventually, he started playing and enjoying himself. It helped to spot a few familiar things, such as books he knows and loves. There was a great water play area that kept him happy for quite some time, and with his confidence starting to rise, his personality came through again. And by that I mean that when we wandered back inside, it wasn't really the prepared activities that he was interested in, more the boxes and drawers he shouldn't be going in, the taps, the scissors, the office – you name it, he had to look! He did seem to like his key-worker, and has told people about her. By the end of the session, just an hour, he didn't want to leave. I was cautiously optimistic.
We went again yesterday, and he went in quite happily, and played contentedly for the hour, though needed me near him for the whole time. We have two more sessions over the next fortnight, and I'll try leaving him there for at least one of them.
I'm still unsure. I've yet to leave him there, which is a whole other hurdle, and a big one with my son. He likes me with him, or at least a familiar adult. I'm hoping he'll continue to bond with his key-worker. I don't have to send him from September, of course. I'm home, I can keep him here. There's no need to put him through it yet if it upsets him too much, we've still two years before he starts school. But then it just might be wonderful for him and he might well love it. We will see. I will no doubt report back!
What about you? What one word sums up your week best? Please grab the badge, link up and share.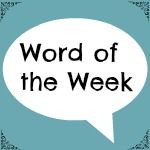 Linky opens at 6.30am Friday, to midnight on Sunday.