Hello and welcome to Word of the Week!
If you're new here, Word of the Week is a nice and simple weekly linky, with everyone welcome to pop by and share. You reflect back on the past week and sum it up in one word. Then share your word with us in a blog post, with as little or as much explanation as you like. It's a fun and friendly linky, so please do be lovely and visit as many of the other blogs as you can and share with them your thoughts on their words and weeks. I do comment on every entry to the linky, and if you add the Word of the Week badge to your post to help spread the 'word', I also tweet them out.
My word of the week this week is:
Ah, a favourite word of mine! And this week it has to be my word because…
My daughter has a homework project to do over the next term at school. She needs to choose any country in the world and put together a little booklet about it. She's chosen to write about China, and so she was at the library over the weekend looking for books for her research, and it gave us an opportunity to talk about non-fiction books, library sections, contents and index pages, the lot. Oh, and of course, China!
I sent my book swap and I have received my fabulous book swap – the very best kind of post, I think.
I've been reading. Kind of goes without saying I know, but along with my fiction, I've been throwing myself into my studies so that I can get ahead a little giving myself enough time to do some wider reading around my current module.
At nursery this week Little Man was given the opportunity to make a bookmark and go and choose a book from their library. We've read that book each day since, even though it's actually a book that Boo already owns!
Yesterday was World Book Day. My girl was so excited to go as Alice in Wonderland, and Little Man and I really enjoyed the school run, spotting all of the different characters that walked by us. Maybe next year I'll get dressed up, too?!
What about you? What one word sums up your week best?
Please grab the badge, link up and share.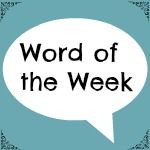 Linky opens at 6.30am Friday, to midnight on Sunday.