Hello and welcome to Word of the Week.
If you're new here, Word of the Week is a nice and simple weekly linky, with everyone welcome to pop by and share. You reflect back on the past week and sum it up in one word. Then share your word with us in a blog post, with as little or as much explanation as you like. It's a fun and friendly linky, so please do be lovely and visit as many of the other blogs as you can and share with them your thoughts on their words and weeks. I do comment on every entry to the linky, and if you add the Word of the Week badge to your post to help spread the 'word', I also tweet them out.
My word of the week this week is:
Little Man, as all toddlers do, has been asking 'Why' for a few months now, but this last week it has really gone up a gear. Every single thing is questioned and it doesn't matter how many answers I give, there'll always be another Why? at the end! Though lovely to see his curiosity, it is also exhausting. There is always a 'why phase', I think, and I do remember Boo's, but Little Man's is more complex as his love of Star Wars means that many of his questions relate to the films, characters and plot lines. It can be a tricky thing to explain at the best of times, but along with relentless 'whys' it's somewhat harder.
Ah well, my boy is now three. He is a preschooler and he's obviously taking in everything he can ready for school – though that means I've another two years of this….!
What about you? What one word sums up your week best? Please grab the badge, link up and share.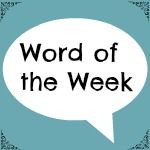 Linky opens at 6.30am Friday, to midnight on Sunday.