Hello and welcome to Word of the Week!
If you're new here, Word of the Week is a nice and simple weekly linky, with everyone welcome to pop by and share. You reflect back on the past week and sum it up in one word. Then share your word with us in a blog post, with as little or as much explanation as you like. It's a fun and friendly linky, so please do be lovely and visit as many of the other blogs as you can and share with them your thoughts on their words and weeks. I do comment on every entry to the linky, and if you add the Word of the Week badge to your post to help spread the 'word', I also tweet them out.
My word of the week this week is:
Oh yes, this is my son's favourite word right now. Every single thing that he wants, needs to be 'now'. Or 'NOW!' more precisely! He's at that age when he believes that the world revolves around him, and he is also pushing boundaries, probably spurred on by starting at nursery and recognising a level of independence. It's a joy. If he wants a drink, a toy, an activity, to go out, you name it, he wants it NOW. Aside from losing my patience more than once, I've got used to explaining to him exactly what needs to be done before he can have whatever it is he's requesting, along with reminding him about his manners. I am starting to see some improvements, and I do vaguely recall Boo going through something similar at this age, though at the time I had a newborn that was demanding my attention, so I probably thought it was that making her push for things. Ah well, I know it's a phase, let's hope it passes soon!
The word is also totally appropriate for our evenings this week, as we've been making the most of our NOW TV subscription (I'm part of their blog squad). We've been watching Penny Dreadful each night, a horror/drama series set in Victorian England, with characters such as Dorian Gray and Victor Frankenstein popping up in it, and we're really enjoying it.
What about you? What one word sums up your week best?
Please grab the badge, link up and share.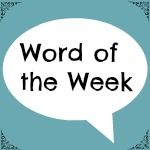 Linky opens at 6.30am Friday, to midnight on Sunday.