Hello and welcome to Word of the Week. Thanks to those of you that linked up last week, I look forward to reading all about your weeks this week.
If you're new here, Word of the Week is a nice and simple weekly linky, with everyone welcome to pop by and share. You reflect back on the past week and sum it up in one word. Then share your word with us in a blog post, with as little or as much explanation as you like. It's a fun and friendly linky, so please do be lovely and visit as many of the other blogs as you can and share with them your thoughts on their words and weeks. I do comment on every entry to the linky, and if you add the Word of the Week badge to your post to help spread the 'word', I also tweet them out.
My word of the week this week is:
I pondered this week's word for a while. Nothing jumped out immediately. It's been a good week, with Boo still off school for half of it, a fun afternoon at Thomasland, a fabulous family day out at Wychwood Festival, and then when she was back, I went in for an afternoon for a school workshop. Then I spotted a theme. Plants.
With the weather finally warming up, I've been enjoying watching what's happening out in my garden, with new things seemingly blooming daily now. I was also delighted when a family friend kindly gave me a wisteria this week, a plant that I've always loved and wanted, but to be honest, feared killing! Well, I've got one now, so I'm hoping that it thrives. I've popped it out in the front bed, as I'd love to have it climbing up the front of my house. I've also recently had a gorgeous Twisted Hazel which makes me smile every time I look out there. If you follow me on Instagram, I'm sharing plenty of my plants over there as they open and delight me.
Then in addition to this, the reason that I spotted it as a theme for the week, is that I find myself noticing them everywhere else, too. In the book I'm reading at the moment, the main character is a gardener. Riding the Thomas train, driving down to the festival, checking out what Boo's been planting at school, when I'm out on my run, anywhere and everywhere, I'm looking at and admiring plants. I realise that this may not seem too odd, but you have to remember that until this last couple of years, I wasn't especially interested in gardening, yet now everywhere I go, it's about the plants. My mum was like this throughout my childhood (still is, of course) and I remember laughing at her for always looking at the plants, and now I'm doing it! It's making me happy, though, so I'm going to keep on doing it.
What about you? What one word sums up your week best? Please grab the badge, link up and share.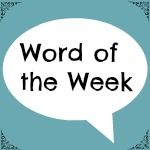 Linky opens at 6.30am Friday, to midnight on Sunday.