Hello and welcome to Word of the Week! Thanks to those of you that linked you last week, as always, it was lovely reading all of your posts. Love having you pop by here each week!
If you're new here, Word of the Week is a nice and simple weekly linky, with everyone welcome to pop by and share. You reflect back on the past week and sum it up in one word. Then share your word with us in a blog post, with as little or as much explanation as you like. It's a fun and friendly linky, so please do be lovely and visit as many of the other blogs as you can and share with them your thoughts on their words and weeks. I do comment on every entry to the linky, and if you add the Word of the Week badge to your post to help spread the 'word', I also tweet them out.
My word of the week this week is:
This week's been about the run up to this weekend, really. Well, at least that's been foremost in our minds. We're leaving the kids for our first weekend away since we had them, as it's our wedding anniversary on Sunday, married for 13 years. We're shopping tomorrow and then sightseeing on Sunday. The Husband is also planning in a meal/refreshment stop every hour or so over the two days, too, just because he can and because he'll be able to eat uninterrupted and without being hurried or having to change a nappy in between courses! He cannot wait, whereas I'm probably somewhere in the middle with my 'anticipation'. Whilst I'm really looking forward to a weekend just the two of us and an actual lie-in (when it's been nearly 3 years, it's much appreciated!), I've been the one doing the planning, thinking about what the kids'll need and I just know I'm going to miss them. I will endeavour to have fun, though…. 🙂
It's funny how much can change in a year, too. I distinctly remember this week last year, and I just took a look at my word for this week in 2014 and it was 'unsettled'. The Husband had just been made redundant from his job of nearly 20 years and to say it was a difficult time is an understatement. But it all turned out OK, phew.
What about you? What one word sums up your week best? Please grab the badge, link up and share.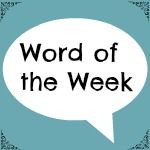 Linky opens at 6.30am Friday, to midnight on Sunday.