Hello and welcome to Word of the Week.
If you're new here, Word of the Week is a nice and simple weekly linky, with everyone welcome to pop by and share. You reflect back on the past week and sum it up in one word. Then share your word with us in a blog post, with as little or as much explanation as you like. It's a fun and friendly linky, so please do be lovely and visit as many of the other blogs as you can and share with them your thoughts on their words and weeks. I do comment on every entry to the linky, and if you add the Word of the Week badge to your post to help spread the 'word', I also tweet them out.
My word of the week this week is:
Yes, two words again – it's like I'm sabotaging my own linky! They need to go together, though, I feel!
We've been considering getting guinea pigs since our beautiful hound passed away last month, and this week we decided to go for it. Much of this week has been about guinea pig research, choosing and ordering (and then waiting impatiently for!) the hutch, popping to the pet shop to buy some toys and essentials for them and calling around to find some babies from a place that I was happy to get them from. In the end we found a children's farm not too far away with lots of little females to choose from, as we'd decided we wanted girls, and the kids loved choosing their favourites. We picked them up on Wednesday afternoon, and we've been adoring them ever since.
So here they are, the newest Reading residents, Jessie and Leia (yep, Toy Story and Star Wars rule here!)
What about you? What one word sums up your week best? Please grab the badge, link up and share.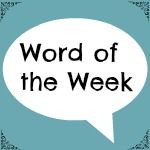 Linky opens at 6.30am Friday, to midnight on Sunday.