Hello and welcome to Word of the Week, this the first one of 2016!
So lovely to have you joining me, as I hope to welcome back old faces as well as new ones to this linky.
If you're new here, Word of the Week is a nice and simple weekly linky, with everyone welcome to pop by and share. You reflect back on the past week and sum it up in one word. Then share your word with us in a blog post, with as little or as much explanation as you like. It's a fun and friendly linky, so please do be lovely and visit as many of the other blogs as you can and share with them your thoughts on their words and weeks. I do comment on every entry to the linky, and if you add the Word of the Week badge to your post to help spread the 'word', I also tweet them out.
My word of the week this week is:
Hmm, the word implies a level of inactivity and very little happening, doesn't it? Well, my week's been the opposite of that, but bear with me and you'll see why I've chosen 'Slow' as my first word of 2016.
We had a lovely Christmas, and the time together, with a break from blogging and studying was wonderful. We had lazier days (well, as lazy as they can be with an energetic 6 year old and excitable 3 year old!) as well as trips out and a fun birthday party at the weekend for a friend of Little Man's.
It's been back to work for the Husband, back to school for Boo, and my Little Man has started at nursery, too. His first day was Tuesday, and despite an awful drop off with him clinging, screaming and kicking whilst shouting 'don't leave me, mummy' through his hysterical sobs, he actually got on OK. He tells me he enjoyed it, so I'm hoping he is ready for it now. He will be back there again today, so I'm steeling myself for a difficult goodbye again, but hoping he'll start to settle soon. Boo was one of those kids who simply said 'bye' and ran off to play from her very first session, so this is a new world for me and I have to say I am not liking it!
At home, I've been rearranging the playroom, making fun family plans for the coming year and getting back into my studying and blogging once more.
So not all that slow? But it's my mindset that has shifted. I feel more relaxed. I'm making more time to enjoy just being with the children. I'm feeling more efficient in how and when I get housework, cooking, studying and work done, without it impacting on family time. I'm feeling less pressure (imposed by me) to write here, and as it's the start of the year and work is always slower now, I can see ways of continuing at a slower pace even when that changes. My planner is filling up, but in a good way, with nice activities for Little Man and I in the week, and quite deliberately, we have a free day each week to take as it comes. Boo and I have a girl trip planned and though she's yet to actually decide what she wants us to do, she's really looking forward to it.
I read a couple of posts this week, that helped to cement this feeling that I had coming out of the break. In the first, Penny shares 10 shortcuts to success and then Kizzy talks about Slow Living on her blog, and her time out reads – new starts post includes some helpful and inspiring links.
I feel I'm working smarter and still achieving as much. I'm letting go of distractions and removing things I need not do. Will it last? Can it last when pressures build and I do have more work to do? Well, time will tell, but do you know what? I find that I don't care, as right now it works so right now I'll enjoy it and make the most of it. I'll deal with the changes as they crop up. It's how I tend to work!
What about you? What one word sums up your week best?
Please grab the badge, link up and share.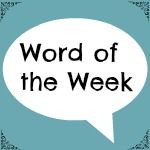 Linky opens at 6.30am Friday, to midnight on Sunday.