Hello and welcome to Word of the Week. Thanks to those of you that linked up last week, I look forward to reading all about your weeks this week.
If you're new here, Word of the Week is a nice and simple weekly linky, with everyone welcome to pop by and share. You reflect back on the past week and sum it up in one word. Then share your word with us in a blog post, with as little or as much explanation as you like. It's a fun and friendly linky, so please do be lovely and visit as many of the other blogs as you can and share with them your thoughts on their words and weeks. I do comment on every entry to the linky, and if you add the Word of the Week badge to your post to help spread the 'word', I also tweet them out.
My word of the week this week is:
There were several words bobbing around my head as possible contenders this week, but this one best sums up my over-riding feelings about the week.
I've had some truly fabulous opportunities blogging wise over the last week or so. I'll be able to share more with you in the coming weeks and months, but I can confirm that we are now Drayton Manor ambassadors, which my kids are so excited about! I've also just signed a contract for another great ambassadorship, along with lining up some fun sponsored and review opportunities, too. I work hard here, and I truly appreciate every read, link up, comment and opportunity.
The Husband's work's been so very busy of late, but fortunately it's also meant that he's being appreciated at work and he's had some good news there this week Considering that it was only just over a year ago that he was made redundant from his old job, I am so thankful that this is falling into place for him, and it looks to have been a positive thing in the long run.
My Little Man has finally succumbed to the virus that laid Boo low for quite some time a couple of weeks back. He's been so hot, off his food, and understandably wanting every second of my attention. And all I've been thinking is how thankful I am that I am at home with the kids. I want to be here for him when he's like this, and though the housework and blog schedule have both gone by-the-by, it hasn't hugely disrupted my life as it would no doubt have done if I had returned to my old career. It's good to be here with him, I'm fortunate to be able to do so, because of the two points above.
So yes, though this week could have been happy, excited, post (my new happy mail swap's been keeping me busy!) poorly, fever, or 'Tangled' (the comfort movie of choice!), I keep coming back to the fact that I'm very thankful.
What about you? What one word sums up your week best? Please grab the badge, link up and share.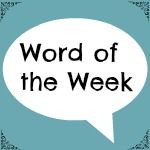 Linky opens at 6.30am Friday, to midnight on Sunday.