Hello and welcome to Word of the Week.
If you're new here, Word of the Week is a nice and simple weekly linky, with everyone welcome to pop by and share. You reflect back on the past week and sum it up in one word. Then share your word with us in a blog post, with as little or as much explanation as you like. It's a fun and friendly linky, so please do be lovely and visit as many of the other blogs as you can and share with them your thoughts on their words and weeks. I do comment on every entry to the linky, and if you add the Word of the Week badge to your post to help spread the 'word', I also tweet them out.
My word of the week this week is:
We've had the fun of Boo's birthday celebrations over the weekend, including her party (which she loved!), a family get together, and a fun shopping trip to spend her birthday money. Having had Little Man's birthday to focus on a few weeks ago, then Boo's birthday and party, it all feels a bit flat this week. Which is always going to make me feel restless.
I've been jumping from task to task, as as always I've plenty to keep me busy. I've several blog posts I need to write, and I find myself dipping in and out of them, never quite finishing any of them.
I've been studying again this week, though for the first time since I started I struggled to get into it this week. My mind wasn't on it, yet it wasn't anywhere else in particular.
So then I think maybe I need to relax, switch off. Hmm, not that easy when I feel restless and short on time – should I write, read, watch a movie? I flit from one to the other, which doesn't really do the trick.
And then there's my boy. He's got an ear infection that is making him a little bit grumpy at times and very restless at night when it plays him up a bit more. He's then tired in the day, and is adamant that he no longer needs naps – he clearly does, but why listen to me, eh?!
So it's been a funny old week. I'm hoping I can regain some focus over the coming days. I do need to.
What about you? What one word sums up your week best? Please grab the badge, link up and share.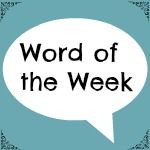 Linky opens at 6.30am Friday, to midnight on Sunday.