Thank you so much for continuing to share and to link up – I love to find out about everyone's weeks in this way, love it!
If you're new here, Word of the Week is a nice and simple weekly linky, with everyone welcome to pop by and share. You reflect back on the past week and sum it up in one word. Then share your word with us in a blog post, with as little or as much explanation as you like. I comment on and tweet out every post, and it's a friendly place, so come join in! All that I ask is that if you link up, you link back to me, and visit as many of the other blogs as you can and comment on their words, please.
My word of the week this week is:
It's been a good one here, starting with Boo's birthday at the end of last week. I loved surprising her when we picked her up from school with her present, and then we came home to see her opening a pile of presents and cards, and welcomed family round for a little birthday tea. The following day we should have been off to CBeebiesland, but rain stopped play there, so instead we went to the Bull Ring so that Boo could spend her birthday money. And spend she did – we have Frozen dolls, Lego Friends, slippers from Build-a-Bear for her Leonardo and several new books – she loved her shopping, and I liked seeing her choosing everything and then paying for them herself, as she's all grown up at 5 now! We also went out for lunch at Pizza Hut, which is always a hit with the kids, but especially this time as they have a TMNT promotion on at the moment, so the activity books and stickers were turtle-themed, just perfect for the birthday girl! On Sunday, we did go to CBeebiesland, which we all enjoyed, and I will share more about our trip there tomorrow.
This week has also seen me at Boo's school a fair bit again. On Monday there was a maths workshop, so after we listened to the teacher sharing the key learns and expectations, we went into the classroom to learn alongside our children and see what they were up to. I love seeing Boo at school, and she clearly has fun there. I do also volunteer there one afternoon a week, so always have a peek at what she's up to! We then had our first parents evening a couple of nights ago, too. It was good to hear from her teacher how well she's getting on, and to be told that she's a 'delight' – not always the case at home, truth be told! It was reassuring for me to hear her being described by her teacher, as I am now confident that she has got to know her and understands what she's like, what she enjoys and what she can do. I left there feeling proud.
The last few days with Little Man have been different, as a couple of things fell through leaving us with the mornings at home. Since Boo's started school, we've either had a class to go to, an errand to run or a play date to go on, so it's been quite different chilling out at home together. It's meant I've got on top of a few things I'd been meaning to do, as well as us doing some painting, crafting and baking, things that up until now I've largely done with Boo as Little Man's been a tad too crazy and unpredictable for them! We had fun, despite a glitter incident!
Blogging wise, I've been fortunate to have a fair few PR approaches come my way this week, and so have picked out a few product reviews from them that I think the kids will enjoy. Little Man's big boy bed has also arrived from Noa & Nani, which he's very excited about and we'll be putting up this weekend, so watch this space for not only a review of that, but also a chance to win one for yourself – that is exciting!
So, yes, all round, it's been a good one this week. And I'm totally overlooking glitter-gate, the leaky conservatory roof and getting soaked-through on the school run more times than I care to count. The good's outweighing the bad, and it's been enjoyable!
What about you? What one word sums up your week best? Please grab the badge, link up and share.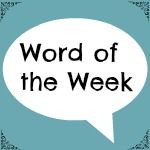 Linky opens at 6.30am Friday, to midnight on Sunday.