Hello and welcome to Word of the Week!
If you're new here, Word of the Week is a nice and simple weekly linky, with everyone welcome to pop by and share. You reflect back on the past week and sum it up in one word. Then share your word with us in a blog post, with as little or as much explanation as you like. It's a fun and friendly linky, so please do be lovely and visit as many of the other blogs as you can and share with them your thoughts on their words and weeks. I do comment on every entry to the linky, and if you add the Word of the Week badge to your post to help spread the 'word', I also tweet them out.
My word of the week this week is:
It's been one of those weeks where I have been reflecting and musing over a few things.
Little Man's parents evening kicked it off as I heard how well he's doing at nursery, how he's making good friends there and his confidence is growing weekly now. I found myself thinking back to his very first attempts at settling in sessions when he clearly wasn't ready, then how he used to sob and cling to me as I dropped him there at the start of last year. I'm sure he'd still rather home, but he's come such a long way and I love seeing him grow, he makes me so proud.
It was then our wedding anniversary mid-week, so I found myself thinking back to our wedding day 15 years ago and all that we've been through together since then – I wrote a post for the Husband a couple of years back sharing a little more. I can't believe it's been so long, and I can honestly say it's flown by. I am so lucky to be married to my best friend.
This week, always remembered thanks to our wedding anniversary, was also when everything turned upside down for us three years ago as the Husband was made redundant, and then swiftly started a new job. It was a huge change for him as he'd been with his previous company since college, and I look back on that time of uncertainty and wish I could have just told us both what I know now. He's settled there, it's better in every which way, so it has all turned out for the best. Again, that time has flown, and the unfamiliar is now the familiar and the norm.
Boo's been off school poorly since Wednesday and as I lay there at around 5am yesterday morning, listening to her breathing to see if she was awake and likely to need me, I calculated that I'd had around three hours sleep yet felt ready to leap up and run to her. I reflected that it's a funny old thing, motherhood, where instincts to protect and care for your kids give you extra energy and resources from somewhere! I have also been thinking on how fortunate we are that I am here at home so can take care of her.
And finally, I have been reflecting on my journey with the Open University. Some of you may recall me trying to make a decision over whether to recommence my studies with them or not a couple of years ago. Well, yesterday registration opened for modules starting this October so I have been reviewing my options for my final two modules as I'll study full time from then and all being well I will have my degree next summer. That's the plan anyway!
What about you? What one word sums up your week best?
Please grab the badge, link up and share.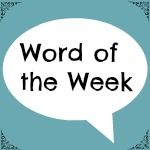 Linky opens at 6.30am Friday, to midnight on Sunday.