Hello and welcome to Word of the Week!
If you're new here, Word of the Week is a nice and simple weekly linky, with everyone welcome to pop by and share. You reflect back on the past week and sum it up in one word. Then share your word with us in a blog post, with as little or as much explanation as you like. It's a fun and friendly linky, so please do be lovely and visit as many of the other blogs as you can and share with them your thoughts on their words and weeks. I do comment on every entry to the linky, and if you add the Word of the Week badge to your post to help spread the 'word', I also tweet them out.
My word of the week this week is:
It simply had to be.
My Open University module is now finished! I took my exam last Friday so it is now all over and I'll await my result which should come through next month. I've then got the summer off before taking my next course. Needless to say, I was celebrating on Friday night.
Sunday saw us celebrating my nephew's 20th birthday at my in-laws house, as well as celebrating the Husband's with them a few days early.
Then yesterday my fabulous husband turned 40. He had the day off so we went out to breakfast with Little Man, visited his folks and went for a meal last night. Today the real 40th celebrations begin as after we drop the kids off at school and nursery, the two of us are off for a couple of nights away. The days will be filled with shopping, sightseeing and plenty of cake! Oh, and sleep. We can actually sleep all night and wake up whenever we like – hooray!
And when we return on Sunday night, no doubt excited to see the kids, it won't end there as the Husband has Monday off because that is my birthday. All the fun things are happening here!
So, with all of this going on, I'm going to have to ask the lovely Word of the Week community to forgive me this week as I'm not going to have a chance to get round to reading. I promise that I will be back next week, though I will be later than normal as I'm off to Gardeners' World Live next Friday – more excitement to look forward to!
What about you? What one word sums up your week best?
Please grab the badge, link up and share.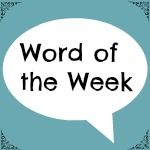 Linky opens at 6.30am Friday, to midnight on Sunday.
[jetpack_subscription_form]