Hello and welcome to Word of the Week!
If you're new here, Word of the Week is a nice and simple weekly linky, with everyone welcome to pop by and share. You reflect back on the past week and sum it up in one word. Then share your word with us in a blog post, with as little or as much explanation as you like. It's a fun and friendly linky, so please do be lovely and visit as many of the other blogs as you can and share with them your thoughts on their words and weeks. I do comment on every entry to the linky, and if you add the Word of the Week badge to your post to help spread the 'word', I also tweet them out.
My word of the week this week is:
We have received a few new games and toys to review here, which has resulted in plenty of play. I love this aspect to my blogging, as it's great to see the children getting so much enjoyment from the products that arrive.
The kids have also taken to us having 'Games Sunday' for the last couple of weeks, where they get seemingly endless games out for us to play. It's lovely to see them enjoying them, as I have always been a fan of board games. I'd say their current favourites are Uno, Star Wars Dobble, Articulate for Kids and Tension. It varies each week!
Little Man has also been enjoying playing with a range of different toys. Toys that we already owned, but you know how things often get forgotten? Well, this week so many older toys seems to have been rediscovered and it's been great to see him enjoying and playing with such a huge variety of things this week. I have noticed that he seems to be a whizz at building train tracks (he's far superior to me at this!) and his problem solving skills are also shining through with jigsaws, Wedgits and various activity books that we've completed. I do love how play can bring out so many abilities, as well as simply being fun.
Play has also been on my mind as I finish up their Christmas lists. I am trying to get that balance of enough gifts for them to be excited by and play with on Christmas Day and beyond, without there being so many that I don't know where to put them!
What about you? What one word sums up your week best?
Please grab the badge, link up and share.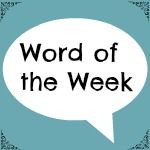 Linky opens at 6.30am Friday, to midnight on Sunday.