Hello and welcome to Word of the Week!
If you're new here, Word of the Week is a nice and simple weekly linky, with everyone welcome to pop by and share. You reflect back on the past week and sum it up in one word. Then share your word with us in a blog post, with as little or as much explanation as you like. It's a fun and friendly linky, so please do be lovely and visit as many of the other blogs as you can and share with them your thoughts on their words and weeks. I do comment on every entry to the linky, and if you add the Word of the Week badge to your post to help spread the 'word', I also tweet them out.
My word of the week this week is:
This week has been quite a mixed bag. 'Books' could have been my word again as I received books for Mother's Day, I've bagged some book bargains and the lovely Iona at Redpeffer popped over this week and we swapped some books whilst catching up over a cuppa. But I've chosen 'expectations' as it fits in so many ways for me this week.
My daughter had great expectations for Mother's Day as she was so keen to give me the gifts she'd chosen and I was looking forward to seeing the cards both Boo and Little Man had secretly created for me. Boo said to me on Saturday, as I put her to bed that she couldn't wait to go to sleep as she wanted to dream of all the lovely things she would do for me on Mother's Day – so sweet! There was my gift right there, so precious.
The Husband and I had high expectations for our wedding anniversary this week, as we had a full 6 hours together whilst the kids were at school and nursery! We went out for a lovely breakfast which filled us up nicely until cake at lunchtime. We shopped and it felt so nice to browse and roam together. Of course the time flew by, but it was great to spend a little time just the two of us, and the kids loved having daddy come with me to pick them up from school and nursery.
I'd been waiting on my fourth OU assignment to be marked so that's come in and I'm happy to say that the score exceeded my expectations. It was an essay that I enjoyed writing, so I'm really pleased that that was reflected in my mark.
I've felt a lot more relaxed and happier since redefining my expectations of the kids. My son is three and he is testing out his boundaries. I need to remember this when I expect certain behaviour from him as he can push my buttons at times! He adores ignoring 'no' and seeing just how much he can get away with. That said, though sometimes I expect too much from him in terms of behaviour, I also need to recognise that he can often do more than I expect so this week he has loved showing me his talents in maths, getting a certificate for good behaviour from nursery and he's enjoyed helping me out around the house.
On the flip-side, my girl is six, just six. I have to tell myself this over and over sometimes as my daughter is very articulate, confident and quite grown up for her age – a friend of mine with a six year old often tells me that talking to Boo is like chatting to one of her own friends and she's convinced she'll rule the country one day! But she is still little, she is still my baby girl, so I've made a conscious effort to lower my expectations of her this week, too. All of this has led me to being more patient with the children at times when they are 'challenging' and so we've enjoyed more quality time together and I've been calm and happy – even in the mornings when we're trying to get out of the house, often a flashpoint!
What about you? What one word sums up your week best?
Please grab the badge, link up and share.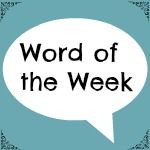 Linky opens at 6.30am Friday, to midnight on Sunday.