Thank you for continuing to link up! I love reading everyone's chosen words, and it's great to see so many familiar linkers, as well as new ones each week. It is a linky, so do please take the time to visit a few other posts if you link up, as that's only fair.
If you're new here, Word of the Week is a nice and simple weekly linky, with everyone welcome to pop by and share. You reflect back on the past week and sum it up in one word. Then share your word with us in a blog post, with as little or as much explanation as you like. Come join in!
My word of the week this week is:
I've had a busy week all round, with a lovely trip out with my mum at the weekend, a girly afternoon with Boo to the cinema and play dates aplenty, as well as all of the normal work and play, but I think 'gardening' stands out most for me this week. Regular readers will know that I've been redesigning my garden, and actually taking an interest in gardening, since the end of last summer. Project Garden feels like it's finally coming together, as we've spent a lot of time out there this week (my body is aching so much!) and I've ordered a fair few plants and bulbs that'll be arriving any day now, too. We've been landscaping, cutting back piles of ivy, building a fruit patch, mowing, planting bulbs and sewing seeds. It's getting there, and I will write an update on it all next week so you can see the progress for yourselves. And for me, who hated gardening for 36 years of my life, literally until the past few months, it feels somewhat remarkable to have this as a Word of the Week! I'm loving it all, though, and the children are getting involved, too, which is wonderful to see.
What about you? What one word sums up your week best? Grab the badge, link up and share, and do please take the time to read a few others…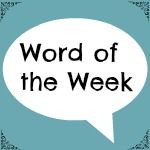 Linky opens at 6.30am Friday, to midnight on Sunday.