Thank you so much for continuing to share and to link up. I love reading everyone's chosen words, and it's great to see so many familiar linkers, as well as new ones each week.
If you're new here, Word of the Week is a nice and simple weekly linky, with everyone welcome to pop by and share. You reflect back on the past week and sum it up in one word. Then share your word with us in a blog post, with as little or as much explanation as you like. Come join in! All that I ask is that if you link up, you link back to me, and visit as many of the other blogs as you can and comment on their words.
My word of the week this week is:
Not really a word I'd ever aspire to have as my Word of the Week! It started on Monday morning, when the kids were playing around our bed, as we were just about to get up. Little Man pulled our bedside lamp down, which smashed and before I could whip him up into my arms, he'd cut his foot on a broken piece of glass. It was quite wide, with plenty of blood, and so it was straight off to A&E for it to be glued and butterfly stitched. We were advised to leave the dressing on for at least 3 days, ideally 5, and not get it wet (not easy, my son needs daily baths – he tends to pop bits of dinner on his head!). So, of course, by the very next day, he'd peeled the dressing off, and so began the week of dealing with his accident and re-dressing his foot several times daily. But lest you think it's just that one, no, no, I got a call from Boo's pre-school on Tuesday as she'd fallen over and cut her knee. As she's not usually a crier, they were concerned as she was asking for me, so I went off to collect her, and ended up having to pop her into Little Man's pushchair to get her back to the car, without her leggings on as she wouldn't pull them over her knee, so I pushed her one-handed whilst I carried Little Man (she's heavy in there!), and to top it off, it chose that moment to thunder, so I had both of the kids crying hysterically as they're not keen on storms. Not the greatest of moments, and more than a little farcical looking back on it! And just when I as starting to think the drama was over for the week, Little Man tripped up in the living room last night, and managed to go flying into the radiator and cut the side of his face, just near his eye. At least it was not an A&E trip or dressings for that one, just lots of cuddles and Makka Pakka, poor little thing. Here's hoping I never have this one as my #WotW again….
What about you? What one word sums up your week best? Please grab the badge, link up and share.
And, an apology in advance – we're away for a nice long weekend, with unknown Wi-Fi access! As regulars will know, I always comment and tweet every linker, but I may not get round to it this week, though I will try! You know I'll be back on it next week, though!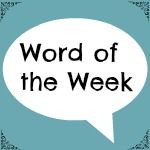 Linky opens at 6.30am Friday, to midnight on Sunday.