Thank you #WotW linkers! Lovely to have you joining us. If you're new here, Word of the Week is a nice and simple weekly linky, with everyone welcome to pop by and share. You reflect back on the past week and sum it up in one word. Then share your word with us in a blog post, with as little or as much explanation as you like. I comment on and tweet out every post, as long as you add my #WotW badge or a link back to here. It's a fun and friendly linky, so please do be lovely and visit as many of the other blogs as you can and share with them your thoughts on their words and weeks.
My word of the week this week is:
I'm always proud of my children and I always think they're totally amazing, but sometimes, they surpass my expectations….
This week has seen my gorgeous Little Man impress and surprise me twice. On Monday we had his health visitor 2 year check up. I filled out a questionnaire in advance with what he is and isn't doing, and then went along to the meeting. I'd said to my mum that he'd no doubt sit there next to me, not say a word and make them think I was making it all up! He tends to be quite shy with strangers and has never been one to 'perform' or just 'do' on cue! How wrong was I. I so underestimated my boy, as he was really chatty in there, sat and built a huge stack of bricks, moved to the next table and coloured in, to the next where he played with the farm animals naming them all and playing imaginatively with them. I know that he can do these things, of course, but it was the fact that he actually did them with strangers and did them with gusto that took me by surprise! There were no problems, he's reaching his milestones and he's pretty tall, which we knew! The following day was his playgroup Christmas party, and Santa put in an appearance. I expected him to be shy and refuse to go and collect his pressie, but no, he happily tottered off and even sat on Santa's knee! My sociable, clever boy 🙂
Boo has a main part in the upcoming nativity and refuses to practice her lines with me. I was a bit concerned that she wouldn't know any of them, but her teacher informed me that she's doing brilliantly well with them, and injects just the right amount of theatre into delivering them! She is also absolutely flying with her reading and writing, and this week's homework saw her move up a level with her tricky words and her reading books. I'm so very proud of her, and she absolutely loves it.
And a little something for the Husband and I? I enter the odd competition here and there, as I pop around in blog land, but don't expect to ever actually win. Well, once again my expectations have been surpassed. I received an email a few days ago to say that we've won a night in a Travelodge of our choice, brekkie included, and it's…..for a couple only! What?! We've never been away from our pair and I cannot remember the last night of uninterrupted sleep we had, and certainly no lie ins passed 7am. We're going to book one for our anniversary next spring, near to Chatsworth House where I've been wanting to go for sometime, and we'll actually be able to stroll round it and enjoy it at a leisurely rather than break neck pace. We cannot wait!!!
What about you? What one word sums up your week best? Please grab the badge, link up and share.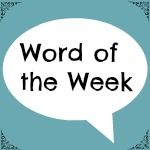 Linky opens at 6.30am Friday, to midnight on Sunday.