Hello and welcome to Word of the Week!
If you're new here, Word of the Week is a nice and simple weekly linky, with everyone welcome to pop by and share. You reflect back on the past week and sum it up in one word. Then share your word with us in a blog post, with as little or as much explanation as you like. It's a fun and friendly linky, so please do be lovely and visit as many of the other blogs as you can and share with them your thoughts on their words and weeks. I do comment on every entry to the linky, and if you add the Word of the Week badge to your post to help spread the 'word', I also tweet them out.
My word of the week this week is:
OK, OK, I know that it's not an actual word, but it really could not have been anything else this week!
My EMA, or my Open University End of Module Assessment, has dominated my week. As I mentioned last week, I started work on it then, and since then I feel like I have been eating, sleeping and breathing it! It's the module equivalent of an exam so it's important and as you can imagine, I have been determined to get it right.
Over the past seven days I have written a full draft, nearly deleted said draft and started from scratch, decided to work with it and modify it, checked then double-checked the bibliography and in-text referencing, gone back and altered paragraphs, changed my mind about sources used so have researched and analysed more and finally, finally, finished it. In between doing all of this, I have been thinking about it, my mind really needs a rest!
I am at least at the end now and I have actually submitted it. It isn't due in for another two weeks, but I have done it, I am relatively happy with it, so it's gone. I am now finished with uni until October so all I have to do now is wait for that result and keep everything crossed that the EMA was enough. And then? Well with any luck you'll find me spending my time on Venuefinder planning a huge party!
What about you? What one word sums up your week best?
Please grab the badge, link up and share.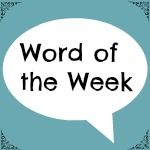 Linky opens at 6.30am Friday, to midnight on Sunday.
Disclosure: This post contains a sponsored link