Hello and welcome to Word of the Week!
If you're new here, Word of the Week is a nice and simple weekly linky, with everyone welcome to pop by and share. You reflect back on the past week and sum it up in one word. Then share your word with us in a blog post, with as little or as much explanation as you like. It's a fun and friendly linky, so please do be lovely and visit as many of the other blogs as you can and share with them your thoughts on their words and weeks. I do comment on every entry to the linky, and if you add the Word of the Week badge to your post to help spread the 'word', I also tweet them out.
My word of the week this week is:
Which feels a bit of an odd word to choose given that we always have food! There are reasons!
We've eaten out a fair few times this week, as well as partaking in cinema snacks at a ridiculous time – The BFG was an early 9.10am showing and the kids had consumed all of their pick and mix by the time it started!
Sunday saw us visiting Countryfile Live which had an amazing food festival. Little Man was all about the food and went around tasting everything that he possibly could. We ate out there, too, and brought a few treats back home with us, including flapjacks to die for.
I've also been having a bit of a mealtimes shake up. We seem to have got into a bit of a rut and I feel we're having the same meals over and over again. So I spent a little while longer over the meal planning and shopping this week and we're now trying out a few new meals. Of course, as a family of four, these things never meet with everyone's approval but I've found a couple of things that have proven to be hits. Phew!
What about you? What one word sums up your week best?
Please grab the badge, link up and share.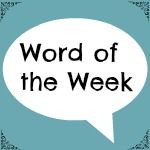 Linky opens at 6.30am Friday, to midnight on Sunday.