Thank you so much for continuing to share and to link up, I do appreciate and enjoy reading every single WotW post. And I do always comment, but someone mentioned my comments weren't getting through to them, so if I've tweeted yours out but you see no comment, let me know as I will have left one!
If you're new here, Word of the Week is a nice and simple weekly linky, with everyone welcome to pop by and share. You reflect back on the past week and sum it up in one word. Then share your word with us in a blog post, with as little or as much explanation as you like. I comment on and tweet out every post, and it's a friendly place, so come join in! All that I ask is that if you link up, you link back to me, and visit as many of the other blogs as you can and comment on their words, please.
My word of the week this week is:
There's been lots to adjust to this week. It has been the first full week with Boo at school. We're getting used to the school runs, and are so far making them stress-free (phew!), and Little Man and I are finding our own routines together. I miss Boo, having not been apart from her this much before, but the day does go by quickly and she's always smiling on pick up. I'm even managing to find out what she's been up to sometimes! Little Man and I have been to two new classes this week, and I've really enjoyed seeing him in these environments and supporting him in learning new things. With this one to one time that we're having, I feel that we're having better quality time together, as he's all that I'm focusing on for several hours every day. And as a new school mum, I'm getting used to the seemingly constant communications being sent home from the school, with various requests, and Boo's had her first party invite already! It's a whole new world for us all, but we're hanging on in there and adjusting to it, and so far, we're coming out smiling.
What about you? What one word sums up your week best? Please grab the badge, link up and share.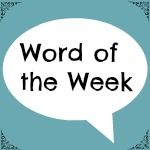 Linky opens at 6.30am Friday, to midnight on Sunday.