Hello and welcome to Word of the Week!
If you're new here, Word of the Week is a nice and simple weekly linky, with everyone welcome to pop by and share. You reflect back on the past week and sum it up in one word. Then share your word with us in a blog post, with as little or as much explanation as you like. It's a fun and friendly linky, so please do be lovely and visit as many of the other blogs as you can and share with them your thoughts on their words and weeks. I do comment on every entry to the linky, and if you add the Word of the Week badge to your post to help spread the 'word', I also tweet them out.
My word of the week this week is:
It's been one of those weeks where I haven't managed to concentrate on one thing, and I don't really have an explanation for it!
I have been trying to write an Open University assignment, yet found myself pottering about doing housework in between paragraphs. I have been raring to get some blogging done, but then found myself baking a cake. I have been sitting down to watch a movie, but then flicking through a magazine or scrolling through my phone at the same time.
I have always been a multi-tasker and generally I thrive on it, but this week it feels like everything's proving to be distracting me from what I am actually supposed to be doing! I am juggling a fair bit, but as you know I write to-do lists and they're all done and dusted daily without me needing to wander about doing other random things, so I can't really account for my procrastination and sidetracking. I'm still feeling that balance that I wrote about last week, though it feels more jumbled up this week, in snatched fragmented moments in between the distractions. I'm hoping it's just a fleeting mood and normal service will soon resume.
My mantra for this coming week will be one thing at a time. How hard can it be?!
What about you? What one word sums up your week best?
Please grab the badge, link up and share.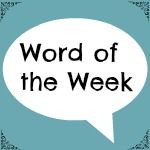 Linky opens at 6.30am Friday, to midnight on Sunday.