Hello and welcome to Word of the Week, on Friday the 13th! Thanks to those of you that linked you last week, lovely reading all of your posts. It's a pleasure to have you all here.
If you're new here, Word of the Week is a nice and simple weekly linky, with everyone welcome to pop by and share. You reflect back on the past week and sum it up in one word. Then share your word with us in a blog post, with as little or as much explanation as you like. It's a fun and friendly linky, so please do be lovely and visit as many of the other blogs as you can and share with them your thoughts on their words and weeks. I do comment on every entry to the linky, and if you add the Word of the Week badge to your post to help spread the 'word', I also tweet them out.
My word of the week this week is:
This one's mainly about Boo, as I've stood back this week and been amazed by her capacity for learning.
This week has seen her move on from learning tricky words to learning spellings each week, this along with her 2 reading books and maths homework, and she is relishing it! She tends to do it all as soon as she's home with it on a Friday afternoon, and I love seeing her passion for it. I suspect it won't last forever, so I'm enjoying it while I can!
She's then into her third week of swimming lessons and has earned an award there. I'm pretty sure every child simply gets one after their third lesson to keep them motivated, but she was so excited and is keen to collect her badge and certificate tomorrow.
The school offered her a new experience at the start of the week, to learn some Bollywood dancing – she was thrilled and loved that! They've also had a book fair on all week after school, so we've been in and chosen some new books, for both children, and she was reading those as soon as we got home. I then went into a workshop for a morning, where we got to work with our children and get a feel for the activities they do on a daily basis. This was a great learning experience for me, and it was lovely to see how much my girl is enjoying learning.
I learned a little more when I went to parents' evening last night. It seems that Boo's a delight and 30 of her would be lovely – I'm not seeing it quite that way! She is a pleasure to have around as she's kind and friendly to others, well-mannered, listens and does all she's told, has a good go at everything and is doing well at all's she trying. She's likely to exceed most of her learning goals this year. I can't really ask for more, can I? I am proud.
And not to miss out my beautiful boy, I've noticed that he's starting to become more interested in books, literally over this last week. He's always loved them at bedtime, but unlike his sister, has never been that bothered in the day when there are other toys around to play with. But this week, he's brought books to me, as well as toys and his beloved paint set. He's becoming really interested in numbers and shapes, counting and identifying, and I can see a leaning towards non-fiction books, as well as his stories. We've also been trying out a few word games, and I'd say his favourites so far are What Can You See? and Name That Tune.
I find it easy to get caught up in Boo's learning, tracking her progress at school and it moves at such a pace there, that I then feel bad for not spotting Little Man's developments, so I'm making more of an effort to do so, and I hope that eternal mother's guilt will then subside a little. So I am learning to pay more attention.
What about you? What one word sums up your week best? Please grab the badge, link up and share.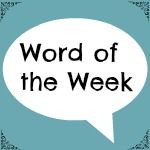 Linky opens at 6.30am Friday, to midnight on Sunday.