Hello and welcome to Word of the Week!
If you're new here, Word of the Week is a nice and simple weekly linky, with everyone welcome to pop by and share. You reflect back on the past week and sum it up in one word. Then share your word with us in a blog post, with as little or as much explanation as you like. It's a fun and friendly linky, so please do be lovely and visit as many of the other blogs as you can and share with them your thoughts on their words and weeks. I do comment on every entry to the linky, and if you add the Word of the Week badge to your post to help spread the 'word', I also tweet them out.
My word of the week this week is:
It could so easily have been 'swimming', as my girl has been every day with school this week and has her lesson tomorrow morning, too. Oh, it's been fun sorting her hair out daily and getting swim kits dry and ready again! We've also been planning for Little Man to go swimming soon, so it has been on my mind. But no, I'm going for 'refreshing'.
I've surprised myself with this word. I think knowing that I was entering into a month of revision, along with juggling everything else and still trying to sort out the Husband's 40th, I was expecting to feel a little frazzled. Yet refreshing is the word that springs readily to mind. Why?
Well, I think it started with a bit of an epiphany over my module selections for my OU degree. I had registered for my next one, knew what I wanted to do the following year (take two and get it finished, as my boy will start school then) and I was all set. Then I thought of another way to complete it, with different module choices it should be an easier way and a more interesting way, all in the same time-frame. I'm excited by it, I just really need a good pass on this course, and fortunately my final assignment score came in last night and I was really pleased with it, so that's that part done, it's just down to the exam now!
There was then the lovely sunshine we had at the end of last week and over the weekend, and that even sneaked back yesterday. Last Friday my revision went well and has continued to do so, and then Saturday was spent at my mum's in her garden with my brother and his wife. Sunday we awoke to another beautiful day and we had a rare day with no plans so we all spent the day together out in the garden, with very little to do but enjoy the sunshine and each other's company.
And then the week has continued with lovely play dates, fun and lucrative blog offers, the revision all falling into place and nice plans being made for forthcoming weeks and weekends away. The overriding feeling has been one of feeling refreshed, with refreshing offers and I've a couple of fresh ideas for the blog that will make it all a refreshing change for me. It's been good, when I really thought it wouldn't be! That is refreshing!
What about you? What one word sums up your week best?
Please grab the badge, link up and share.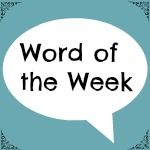 Linky opens at 6.30am Friday, to midnight on Sunday.