Hello and welcome to Word of the Week!
If you're new here, Word of the Week is a nice and simple weekly linky, with everyone welcome to pop by and share. You reflect back on the past week and sum it up in one word. Then share your word with us in a blog post, with as little or as much explanation as you like. It's a fun and friendly linky, so please do be lovely and visit as many of the other blogs as you can and share with them your thoughts on their words and weeks. I do comment on every entry to the linky, and if you add the Word of the Week badge to your post to help spread the 'word', I also tweet them out.
My word of the week this week is:
Because I have been!
Over the weekend, Boo had a birthday party to attend so we were both very sociable there. We then met up with friends in the park on Sunday, as well as visiting family. Monday saw Little Man and I on a soft play date, before catching up with my mum. Tuesday I was hermit-like as I wrote my first university assignment of this module, but I did also take the time to book in a couple of get-togethers with friends (as well as applying for Little Man's school place, how is this happening?!). On Wednesday I dropped my boy at my mum's so that I could go and visit my bed-ridden mate Emma (you may know her as BrummyMummyof2) and relieve her boredom for a few hours. Then last night I was out with friends having a good old chat. I love weeks like this, but that said, I am quite looking forward to the solitude that today will bring whilst the kids are at school and nursery!
What about you? What one word sums up your week best?
Please grab the badge, link up and share.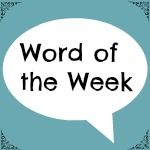 Linky opens at 6.30am Friday, to midnight on Sunday.