Thank you #WotW linkers! Great to have you joining us. If you're new here, Word of the Week is a nice and simple weekly linky, with everyone welcome to pop by and share. You reflect back on the past week and sum it up in one word. Then share your word with us in a blog post, with as little or as much explanation as you like. I comment on and tweet out every post, as long as you add my #WotW badge or a link back to here. It's a fun and friendly linky, so please do be lovely and visit as many of the other blogs as you can and share with them your thoughts on their words and weeks.
My word of the week this week is:
Yes, yes, I do know it's only mid-November, do not fear, I've not gone mad! But, Christmas has to be my word this week, as it's definitely dominated my activities and thoughts…
My Christmas shopping is nearly complete, though I've yet to purchase anything for the Husband. I'm sure he'll let me know what he wants soon enough. I've bought advent calendars, both papery and chocolatey in the past couple of weeks. The TV adverts have well and truly kicked in – do they wait until Bonfire Night's over and then go for it? Is there a secret date that all retailers know about to do this?! And I do adore the John Lewis ad, being a fan of penguins. Boo has written her Dear Santa letter (I also shared my top picks on where to get lovely Dear Santa sets this week, both in the shops and free printables), as she wants to ensure he gets it in enough time to be certain she gets her wish! We've also started writing her class Christmas cards, as I figure she's only going to want to do one or two every couple of evenings, so best get cracking now! On the blog front, we've had two invites to lovely days out and events where the children will get to meet Santa (I am so looking forward to those and sharing them with you), along with having a fair few people getting in touch interested in gift guide and toy collaborations in the run up to Christmas. And, well, I'm just feeling it now. It's hit me this week, and I'm hoping it's a good one this year, especially after last year's awful one. And this week, I also bought The Muppet Christmas Carol soundtrack. If you read about Muppet Christmas Carol Day last year, you'll know how important this is!
What about you? What one word sums up your week best? Please grab the badge, link up and share.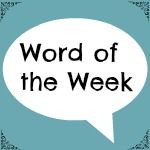 Linky opens at 6.30am Friday, to midnight on Sunday.