Thank you so much for continuing to share your words of the week with me, I love it! A fabulous 53 of you linked up last week, which was the most we've had – you kept me busy!
Word of the Week is all about summing up your week in one word. You can write as little or as much as you like about your week, but we need to know that word! Anyone can join in, and we are a friendly bunch, so be lovely to hear how your week has been.
So, onto mine, and it is has been…
It started with our weekend. Last Saturday was our 12th wedding anniversary, so the Husband and I went out for a meal that we could eat and enjoy at a leisurely pace, as we had no children trying to steal our food or requiring our attention! On Sunday, with the sun shining brightly, we headed out to a National Trust property, Attingham Park. It was so beautiful there, and it was warm and sunny, so we roamed around the house and gardens, the children had a blast out on the huge playing field that they have there, and we stopped by the cafe for cakes – bliss! It was reminiscent of a holiday, all leisurely and happy.
Then onto the rest of the week. As regular readers will know, the Husband was made redundant a couple of weeks ago, so it's been all change here. In amongst the changes is the need for him to now buy a car to get to his new job. This element to my week has not been leisurely, but I've elected to put that aside! It has meant that he's needed to take the family car to work each day, so we've been sort of housebound (a word I did consider, but not entirely true!). This has meant no pre-school for Boo, and no real plans each day. We've been out on scooter rides, spring walks, playing in the garden, had messy play sessions, baked cookies, read stories, and plenty more besides. There has been no real sense of urgency, and every morning feels unhurried. It's been refreshing. Though, I don't want to mislead you into thinking that is has all been delightful – staying in a lot with an 18 month old with a very short attention span and a tendency towards chaos and mischief has it's challenges! But on balance, I'm going with leisurely.
What about you? What one word sums up your week best? Grab the badge, link up and share, and take a peek at the others…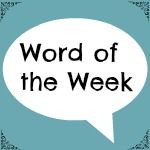 Linky opens at 6.30am Friday, to midnight on Sunday.

Visit The Reading Residence's profile on Pinterest.