Hello and welcome to Word of the Week!
If you're new here, Word of the Week is a nice and simple weekly linky, with everyone welcome to pop by and share. You reflect back on the past week and sum it up in one word. Then share your word with us in a blog post, with as little or as much explanation as you like. It's a fun and friendly linky, so please do be lovely and visit as many of the other blogs as you can and share with them your thoughts on their words and weeks. I do comment on every entry to the linky, and if you add the Word of the Week badge to your post to help spread the 'word', I also tweet them out.
My word of the week this week is:
OK, I often have quite a bit on my plate with family, home, studying and blogging, but this week has somehow felt more 'timed' than normal.
What I mean there is that I often use to-do lists, especially on the 2 days when Little Man is in nursery, but this week I have literally planned my days out to the minute trying to cram everything in. It's been a mixture of everything needing to get done, from posts to housework to studying to odd-jobs to things with the kids – you get the picture. It's not been stressful, just full-on and a bit tiring.
We've also had a couple of appointments this week, some booked yet to come, and I've had the delights of getting Boo into school early for a new before school club. Just once a week on a Monday, but it throws all of my normal morning routine timings out. To be honest, once we get used to it, I do like it as we miss the normal school rush so it's a lot faster to do. Oh, and Boo does love her new class, too!
Amongst other bits and bobs, my #BringBackPaper stationery swap has been bundled up and sent, I've bought birthday gifts for friends, made plans for the Husband's 40th that is fast approaching and I even managed to squeeze completing my tax return in, way before the deadline, so I am feeling a tad smug about that!
I am hoping next week will feel a bit more free and easy, but I'm not too sure I can see that quite yet…
What about you? What one word sums up your week best?
Please grab the badge, link up and share.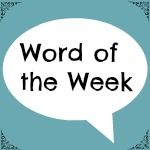 Linky opens at 6.30am Friday, to midnight on Sunday.