Hello and welcome to Word of the Week!
If you're new here, Word of the Week is a nice and simple weekly linky, with everyone welcome to pop by and share. You reflect back on the past week and sum it up in one word. Then share your word with us in a blog post, with as little or as much explanation as you like. It's a fun and friendly linky, so please do be lovely and visit as many of the other blogs as you can and share with them your thoughts on their words and weeks. I do comment on every entry to the linky, and if you add the Word of the Week badge to your post to help spread the 'word', I also tweet them out.
My word of the week this week is:
I'm often proud of my kids, of course, but it's something that has especially struck me this week.
We've had Boo's end of year report and parents evening, and she continues to do very well as well as trying hard. She is a popular and kind member of the class, which is always lovely to hear. She adores going to school and takes absolutely everything in her stride. I'm always proud of her, and it tends to be the little things that make me most proud. Her confidence, the way that she tootles into her self-defence class, where she doesn't really know anyone, and happily waves me off and gets on with it. Her easy-going nature, the way that she asks to do something, I explain to her why she can't, and she shrugs and accepts it with no arguments and no tantrums. Her maturity, how I see her growing up more and more each day. These are little snippets that I've seen this week and they all make me smile.
Little Man has come home this week with a good behaviour certificate from nursery. I've got his parents evening there next week, and I'm already so pleased with how well he's settled in and has quietly been making friends. He has also been to a brand new class over the weekend, a football class. This is one that he'd actually asked to go to, which is unusual for him as he's not keen on trying new things. Admittedly, when the day came round he was objecting to going which is standard, but he did go and he did shyly join in, with the Husband's support. He came home very pleased with himself, showing off his new kit, bless him.
My kids are both so different to one another, and they have both made me very proud this week.
What about you? What one word sums up your week best?
Please grab the badge, link up and share.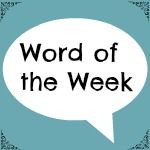 Linky opens at 6.30am Friday, to midnight on Sunday.