Thank you so much for continuing to share and to link up, I do appreciate and enjoy reading every single WotW post.
If you're new here, Word of the Week is a nice and simple weekly linky, with everyone welcome to pop by and share. You reflect back on the past week and sum it up in one word. Then share your word with us in a blog post, with as little or as much explanation as you like. I comment on and tweet out every post, and it's a friendly place, so come join in! All that I ask is that if you link up, you link back to me, and visit as many of the other blogs as you can and comment on their words.
My word of the week this week is:
As in the crazy red drumming one in The Muppets! Oh my, the kids have watched The Muppets film so many times this week. I don't mind at all, as I like it, too, and I particularly enjoy the song 'Man or Muppet'! More importantly, it holds Little Man's attention for quite some time, which no feature length film has ever managed to do before – hurrah! I've actually managed to get dinner cooked without him haranguing me in the kitchen, thanks to Kermit and friends. And Animal, well, Little Man has a clear penchant for him, and I just love the way he says it, doing his impression of him at the same time – I should have vlogged it, shouldn't I, as I cannot describe it! You'll have to take my word for it that it's cute! And, there is another reason for this word, and that is that we were invited along to the National Forest Adventure Farm yesterday, so spent the day enjoying the animals and plenty more besides, and you can read all about our day out there tomorrow. The day culminated in us returning home with two exhausted but happy children, who then watched The Muppets, of course….!
What about you? What one word sums up your week best? Please grab the badge, link up and share.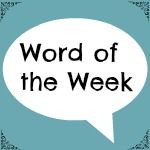 Linky opens at 6.30am Friday, to midnight on Sunday.