It's that time again where I sum up my week in a word, and invite others to do the same. I do enjoy pausing and thinking back over my week, and looking for an overriding theme. And I thank those of you that take the time to do the same and then link up with me here. It's a pleasure to have you all.
If you're new here, Word of the Week is a nice and simple weekly linky, with everyone welcome to pop by and share. You reflect back on the past week and sum it up in one word. Then share your word with us in a blog post, with as little or as much explanation as you like. It's a fun and friendly linky, so please do be lovely and visit as many of the other blogs as you can and share with them your thoughts on their words and weeks. I do comment on every entry to the linky, and if you add the Word of the Week badge to your post to help spread the 'word', I also tweet them out.
My word of the week this week is:
It's been a week of flurries of activity here, along with a snow flurry, too! As to that, the kids were delighted, whereas I don't like the snow, unless it's at the weekend, as I do not enjoy driving in it at all. Still, their enthusiasm was delightful to see, and at least it washed away within the day!
Little Man and I have had flurries of activity followed by lazier days. We tried out a new playgroup this week, which he really enjoyed, so we will be going there again. It was lovely to see him wandering off and exploring all by himself. A few months ago he'd have been clinging to me anywhere new, whereas he was quite confident and happy to go off and have his own adventures this time. I love seeing him growing up.
I was then determined to book us a Sun holiday break when the booking site opened at the weekend. We've been on these before, and they do work out cheaper, and as we're now restricted to school holidays for the first time, I knew we needed to get cheaper! So I was lurking that booking site waiting for it to open all of Saturday evening, as it often opens before the official day and I knew I had to get in there early to get where we wanted during the Easter holidays. It was getting later and later, and I just wanted to go to sleep. I checked it one final time before giving in to sleep and it was open – hooray! So at about 10 to 12 on Saturday night, there was a sudden flurry of activity as I leapt out of bed and ran downstairs to book our break, and yes, we got what we wanted! So we now have a holiday to look forward to, bagged at a bargain!
I've had flurries of emails for this here blog, too. Whether it's because my rankings are quite good at the moment, or whether it's just the start of the year and there's plenty going on, I'm not sure. I just know that I've had a lot going on, and each time I go off and play with Little Man for a few hours ignoring my phone, on my return, I've had another flurry of emails. We will see how long that lasts for!
What about you? What one word sums up your week best? Please grab the badge, link up and share.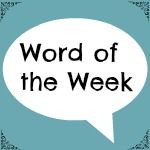 Linky opens at 6.30am Friday, to midnight on Sunday.