Thank you so much for continuing to share and to link up. I love reading everyone's chosen words, and it's great to see so many familiar linkers, as well as new ones each week.
If you're new here, Word of the Week is a nice and simple weekly linky, with everyone welcome to pop by and share. You reflect back on the past week and sum it up in one word. Then share your word with us in a blog post, with as little or as much explanation as you like. Come join in! All that I ask is that if you link up, you link back to me, and visit a handful of other blogs and comment on their words.
My word of the week this week is:
This seems to have dominated my week this week, in various guises. Firstly, I have now got a slow cooker, my very first, and I am excited! Lots of people have been telling me how great they are, so I will report back on how we get on. I've my grocery shopping coming today, so will try a few recipes this week – I'm thinking pulled pork to christen it as the Husband loves that. And on the subject of grocery shopping, I've been looking at ways to reduce our spending there, which has invariably involved food! I've been meal-planning, as I know this helps, and the 4 year old's been helping me by suggesting her shopping list, too! Which leads me to the time I've spent looking through my cook books and pinned recipes, and we've tried out a few new meals this week. I've enjoyed cooking different things, though I've been frustrated by the children's reluctance to try them. Boo can be cajoled and teased (read: 'threatened with no dessert'!), but Little Man is much trickier to crack. I will persevere, as these meals are healthier and give us more variety, and the Husband and I are eating them. The kids need to try different things, so I'm going to keep going! And, with all these thoughts of food and recipes, I've been baking again this week, something I've not done for a few weeks. It's been good, both doing it with Boo, and eating it 😉 So yep, food has taken up a lot of my thoughts and attention this week.
What about you? What one word sums up your week best? Please grab the badge, link up and share…..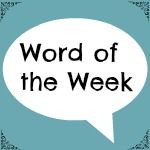 Linky opens at 6.30am Friday, to midnight on Sunday.