Thank you so much for continuing to share and to link up – I love to find out about everyone's weeks in this way, love it!
If you're new here, Word of the Week is a nice and simple weekly linky, with everyone welcome to pop by and share. You reflect back on the past week and sum it up in one word. Then share your word with us in a blog post, with as little or as much explanation as you like. I comment on and tweet out every post, and it's a friendly place, so come join in! All that I ask is that if you link up, you link back to me, and visit as many of the other blogs as you can and comment on their words, please.
My word of the week this week is:
Not the most inspiring of words! It has been wet most days here, and I seem to have managed to get caught in pretty much every shower. School runs have been fine up until recently, because of course they were dry, but now we battle through lashing rain, with a 2 year old who refuses to have a rain cover on his pushchair (and is more than capable of kicking it off!) and so ends up damp. The plus side to this, as I really have to try and find one, is that we've been enjoying some delicious hot chocolates when we get home!
I look out into my garden, that I was lovingly tending until a few weeks ago, and all I see is damp and soggy, with leaves that I really need to rake up, but I don't want to go out there because it's damp!
We've been tired, with Boo having a bout of croup and Little Man testing out his 'big boy' bed boundaries, so a few disturbed nights, waking to dark and wet mornings, leaves my mood feeling altogether 'damp'. The news that there's a sick bug going around Boo's classmates does nothing to lift me either, as I absolutely loathe sick bugs hitting this house – they're never good, are they?!
It's then, I suspect because of the weather and the tiredness, been a week with niggles and irritations. Nothing huge, nothing significant, just little thing after little thing. I'm sure if it was hot and sunny, I wouldn't be dwelling on them! But yes, enough to put a dampener on my normal positive mood.
But do not worry (were you even worrying?!), as you know me and I will lift myself out of this damp place, in spite of what the weather may throw at me. For I have Tots100 blog camp to look forward to tomorrow, my nephew's theatre performance next week and it'll be half term before we know it, too, which I'm really looking forward to. Come on sunny disposition, come back!
What about you? What one word sums up your week best? Please grab the badge, link up and share.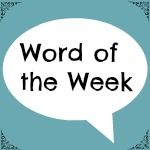 Linky opens at 6.30am Friday, to midnight on Sunday.