Hello and welcome to Word of the Week!
If you're new here, Word of the Week is a nice and simple weekly linky, with everyone welcome to pop by and share. You reflect back on the past week and sum it up in one word. Then share your word with us in a blog post, with as little or as much explanation as you like. It's a fun and friendly linky, so please do be lovely and visit as many of the other blogs as you can and share with them your thoughts on their words and weeks. I do comment on every entry to the linky, and if you add the Word of the Week badge to your post to help spread the 'word', I also tweet them out.
My word of the week this week is:
What else?
How strange to be choosing a word this week that is so new to us, and yet so universally understood.
What a week, where to start? Without doubt Brexit has dominated my week, as I'm sure it has all over the UK. I can't remember a time when we were all talking politics as much as we are now, which can be positive, but then I also can't remember a time when we've been as divided over it, as openly hostile over it. And though I am very disappointed in the result, it's the divisions that it's caused, the bigotry and hatred spewing forth that has most appalled me.
Remain or Leave, this is one where we'll need to pull together, but as I'm not seeing that from our politicians, and social media being what it is along with the press further exacerbating the divisions, I'm yet to see signs of that happening. We will get there, we must get there.
On a more positive note, perhaps the next generation do have what it takes to pick us all back up. When my 6 year old picked up on a conversation we were having, I found myself attempting to explain racism to her in as simple terms as I could. It is a difficult concept for a child with friends from different races and cultures to grasp, I gratefully found. Made all the more clear when she responded with 'But they're all just people.' You're right, my girl, you're right. She gives me hope.
What about you? What one word sums up your week best?
Please grab the badge, link up and share.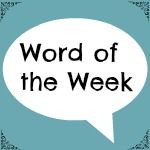 Linky opens at 6.30am Friday, to midnight on Sunday.